Plean Precast Ltd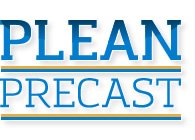 Formed in 1967, Plean Precast is now well established as one of Scotland's major precast concrete companies. Operating from a ten acre site with over 40,000 sq. ft of covered casting area, Plean manufactures a diverse range of structural and decorative products.
Plean have expanded to serve the whole of the UK market, particularly in the cast stone field where through the introduction of machine-cast ashlar, which complements the traditional hand made products, they have made considerable gains.
The company is largely self-sufficient, providing an estimating and technical service in addition to it's own drawing office, mould making, production, reinforcement fabrication, transport and importantly laboratory testing, research and development facilities.
Registered with BSI as a Firm of Assessed Capability to BS EN ISO 9002: 1994, the company places great emphasis on quality in terms of product and service and is a leading supplier of cast stone and structural products. Plean are also a founder member of the UKCSA.